In a cycling universe a long, long time ago, cycling jerseys were either cotton or wool and custom cycling jerseys had logos sewn on to them. Then came synthetic fabrics and sublimation printing, which meant that a plethora of technical characteristics were opened up. Perhaps you yearn for those simpler days when the choice was just wool or cotton? Well we are going to try and simplify what the technical fabrics used in custom cycling jerseys actually mean.
Perhaps the key innovation for cycling jersey fabric (and indeed all kinds of sports clothing fabric) is microfibre. As the name suggests, microfibre uses tiny fibres (around one denier which is a fifth of the diameter of a human hair) and the fact that the fibres are so small allows them to transport moisture very effectively. This is the so called "wicking" effect (also known as capillary action) and is great for sports clothing, because it transports the sweat from the inside of the garment to the outside of the garment so that it can evaporate, which simultaneously drys and cools the athlete.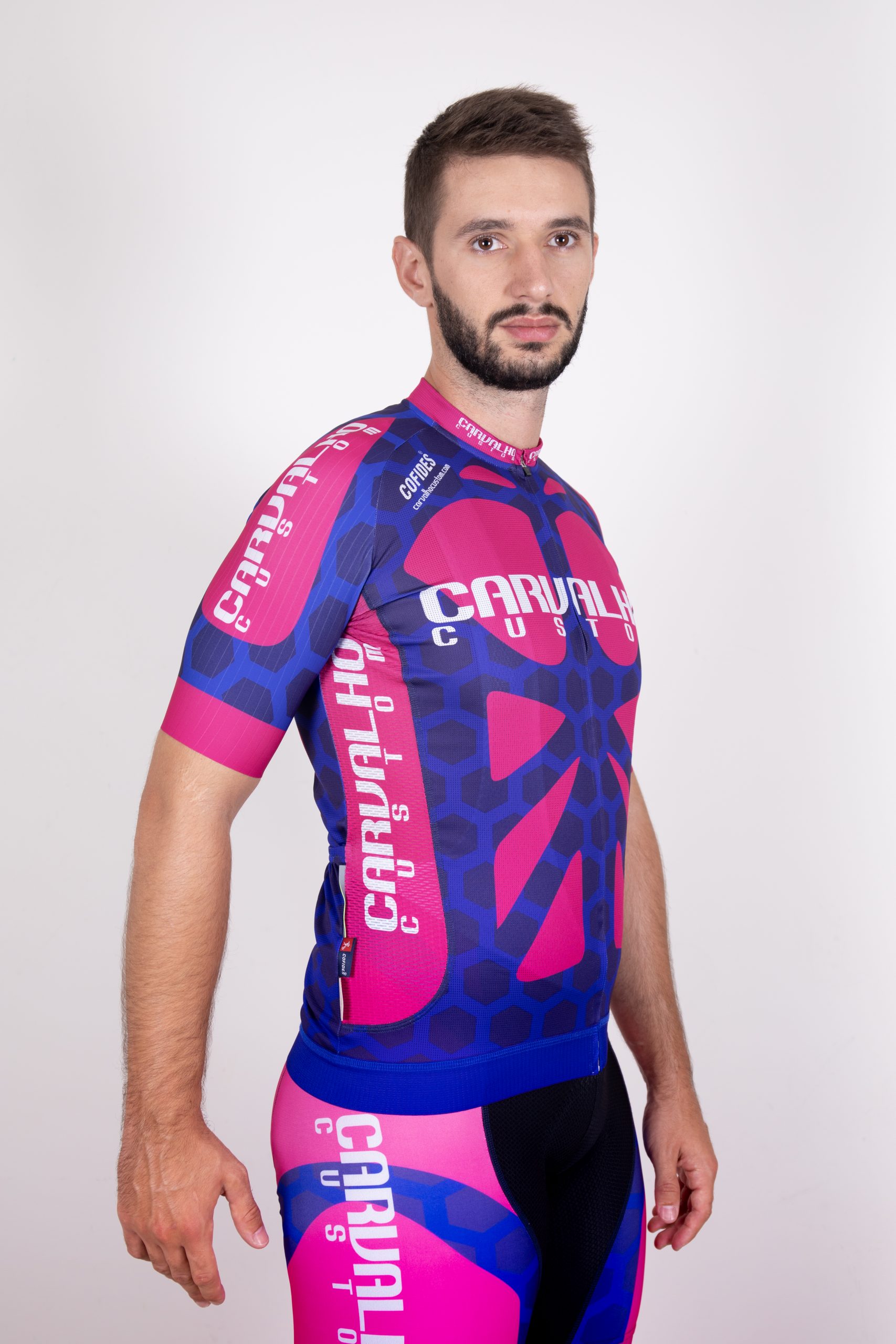 The story gets a bit more complicated because microfibres can be made from different materials and blended with different fabrics to alter their properties – so they can be made more lightweight, stretchy, higher wicking etc. This means that different microfibres should be used for different functions, which is why we use a blend of three different microfibres for our racefit jerseys for example – each microfibre is carrying out a slightly different function according to where it is used on the jersey. We use a perforated and super-stretchy fabric on the shoulders so that it will follow the form of the shoulders but breath easily, a super lightweight and slightly less stretchy fabric for the chest and back panels to minimise the weight of the garment and then a lycra mesh super-stretchy microfibre for the underarm panels to pull the garment in across the torso. Using these different grades of elasticity helps to keep the racefit jersey form fitting, but allows it to move with the rider, whilst maximising breathability.
As a custom cycling jersey supplier, choosing the right microfibres for our garments we also have to make sure that they are soft to the touch, durable to abrasions and washing and that they will give vibrant colours with sublimation printing. You will only really see the true value of high end microfibres when you use them in anger however – it is when you are several hours in to a long sweaty ride and the jersey still feels fresh that it really comes into its own, not when you try it on in your bedroom!
Here is a video about our racefit custom cycling jersey: