In this post we will just explain the different ways that you can communicate with us your final order numbers for custom cycling & triathlon clothing – there are of course more elements to getting to the stage of actually confirming the order numbers (like receiving samples, understanding minimum order requirements and so on), but you can find out about these here.
The main tool we use for order is our excel order form, which is actually just an intelligent version of a normal excel spreadsheet. So this spreadsheet allows you to choose the items you want to order and the quantities and then when you press the "calculate total price" button it will automatically give a final price including any discounts or surcharges where applicable and transport, so you know the final price you will pay. If you make any changes, then you just need to press the same button again to recalculate. (It is worth remembering here that our minimum order requirements are that you must order 10 of any main item and then no minimums are required for any other items and our discount system starts at 5% for €1500+ order value up to 10% discount for orders of €5000+).
Our spreadsheet also has another nice function, which is the "add multiple orders" button. This allows you to consolidate all the orders you get from club members into one order form. To use it, choose the items in the order form that club members are going to order, then click the "add multiple orders button" and you will see a mini order form for each club member. You can then fill out these mini order forms and they will automatically be added together to make a total club order.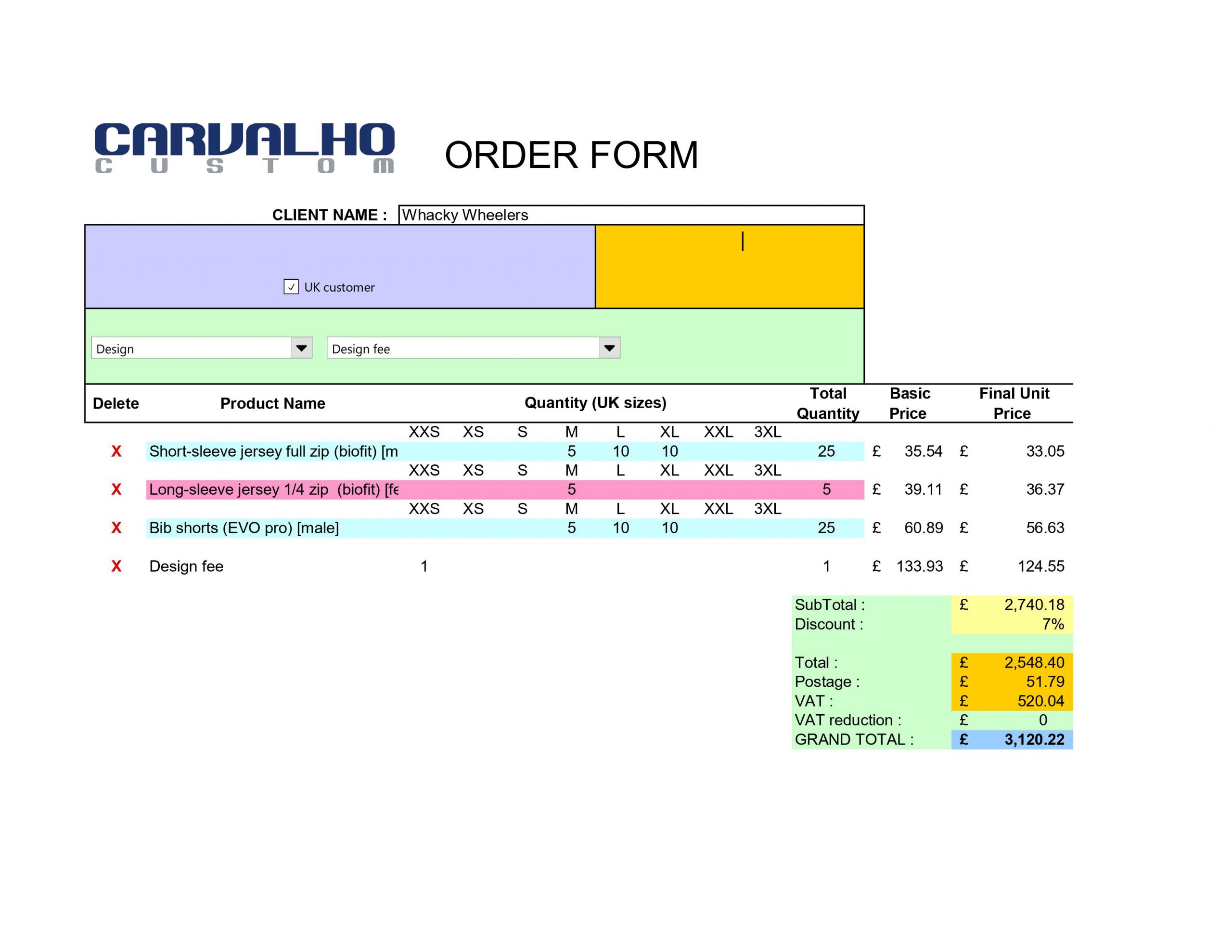 Some of our clients just don't want the hassle of working with excel sheets so they just send an email listing their order and that is fine too! We will just confirm the order back to you.
The final option is to allow individual club members to order and pay individually via a club shop – in this case we will set up a specific shop for your club with a password and your club members can shop and pay individually , either choosing to have their personal kit delivered to their home or the entire club order can be sent in one box for it to be distributed by whoever drew the short straw at the club to handle the kit…..
We have tried to make a slightly complicated process as simple and transparent as possible – if you have any questions about our ordering system or any other aspect of our business, please don't hesitate to ask.