There is a bewildering range of fabrics available for custom cycling jerseys and it is down to us to choose the best one for our clients. To get high quality sublimation printing (the process by which designs are dyed into the fabric so that they will never peel or degrade) requires the use of a synthetic fabric, as natural materials will not take sublimation printing well. That does not narrow things down much however, so here are the criteria that we look at when selecting our cycling jersey fabric:
*heat & moisture regulation
*air permeability & water vapour permeability
*wicking capacity
*speed of drying
*dimensional stability (also when wet)
*durability
*breathability
*elasticity
*lightweight
*ease of care (washing and tumble drying)
*softness of touch
*sharpness of colours with sublimation printing
When we receive samples from our fabric suppliers we test them first in the lab to see how they rate against these criteria (which will mean more than 90% are rejected), then we make up cycling jersey samples to be tested first by staff and then by professional riders. To get to this stage in our testing will take around 3 months. If we are then convinced that this new fabric is the very best available on the market then we will supply it to one of our tester club teams and get their feedback, before we release it to the general market.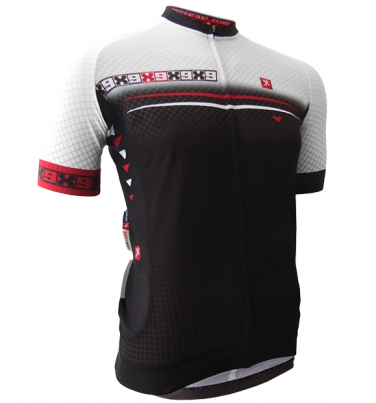 All of our cycling jerseys actually use multiple fabrics (a mixture of mesh for superior aeration, lycra panels to give a contoured fit in the appropriate places, silicone coated grippers for the arms and the principal fabric itself). Here we will only consider the principal fabric which in our case is a carbon fibre blended into a high specification microfibre thread with a perforated weave.
Cyclists will of course be used to frames being made with carbon, but there are numerous benefits from incorporating carbon thread into the microfibre thread – it helps to give the jersey outstanding heat and vapour/moisture management, it makes it extremely strong/durable but still lightweight. Added to this the weave gives four way stretch to the fabric which helps to give a contoured fit and reduce any flapping in the wind and it is perforated to maximise breathability with a silk soft finish that will never get sticky and cling to your skin.
We are confident that our custom cycling jersey fabric is the very best available on the planet and you can rest assured that we use the same rigour when testing the multitude of other fabrics that we use in our range like for our bib shorts, custom tri-suits and so on.
The truth is that these kind of very high-end fabrics are extremely expensive (using high end fabrics as opposed to a more basic version nearly doubles our cost of production), but we manage to keep our prices manageable because we save money in the rest of our business, which means we can provide high-end kit at reasonable prices. We don't use national distributors (only selling direct from Portugal), we don't sponsor big teams, travel to trade shows, advertise in glossy cycling magazines and all the other kinds of branding which have been taking over the cycling industry in recent years. Rather we run a more old-fashioned bread and butter type of business, where our focuses are just quality of product and customer service. So if you are looking for a glitzy brand that you can see on the telly we are probably not for you – if it is just high quality at fair prices, then please give us a call!
Also please contact us if you would like to see samples from our range and test them for yourself!