Our EVO pro bib shorts have had a lot of development work put into them – there are a lot of things to consider, but some of the things that we consider are: to make sure that they fit perfectly when you are in the riding position (rather than when you are standing upright to try them on!); that they move fluidly with the pedal stroke; that the seams are located where they won't rub; the chamois offers rid comfort, antibacterial action and longevity; the straps sit comfortably on the shoulders; the right amount of compression is offered to the thighs; that they will not ride up your leg with the pedal action.
For this last issue, we have in the past offered to have a lycra leg gripper, which is a band of compression lycra at the bottom of the shorts, or silicone band leg grippers. Now we have moved on to offering silicone coated lycra as the gripper – this has the advantage of being more gentle on the thigh muscle than silicone bands, whilst maintaining the position of the shorts better than just compression lycra. Some riders prefer not to have any silicone for reasons of comfort, so our clients can specify. We are also now cutting the end of the shorts with laser, in order to remove an additional seam from the end of the shorts, as just one more small element in our bid to make our shorts the most comfortable on the market!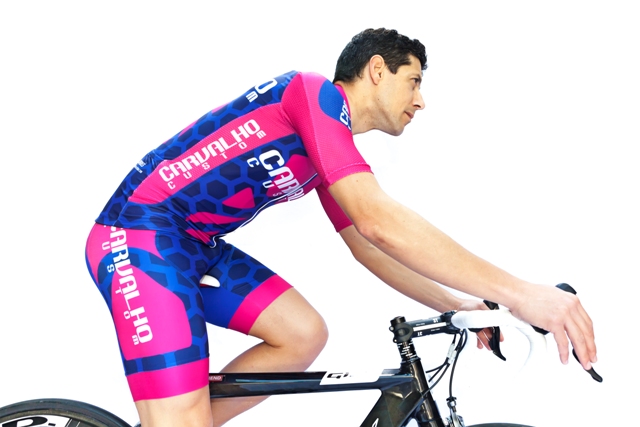 We have also now finished patenting a new halter neck women's bib short, that will allow female riders to take a comfort break without having to remove their jersey (as with traditional bib shorts). It looks like our invention will revolutionize the women's bib short market and we have decided to make this patented design available to other cycling clothing manufacturers, as the demand for them is just too large for our small factory to deal with and we will continue just to focus on custom cycling clothing and club triathlon clothing.