Selecting the fabrics that we are going to use for the custom cycling & triathlon kit that we supply is one of the more difficult tasks. Every year fabric manufacturers produce new fabrics with all sorts of promises about breathability, UV protection, elasticity, anti-microbial properties, aero-dynamics and durability and it is out job to sort out the hype from the reality. This involves a lot of testing either in our lab or on the road, but one of the hardest things to test for is durability, because although you can simulate long term usage to some extent, the only true test is to actually use a garment over a prolonged period.
Our approach is to only change fabrics when it is absolutely clear that there has been a genuine advance in fabric technology, rather than launch new fabrics every year just to ride the latest wave of hype. This is really for two reasons – first it helps to keep our costs down to offer our clients only a limited range of fabrics and buy them in large quantities (after all, we have made our main (and somewhat simple) selling point that we sell "pro quality kit at reasonable prices") and second because we have tested all our fabrics to exhaustion out on the road and we know that what we are using is the very best in class and that it lasts.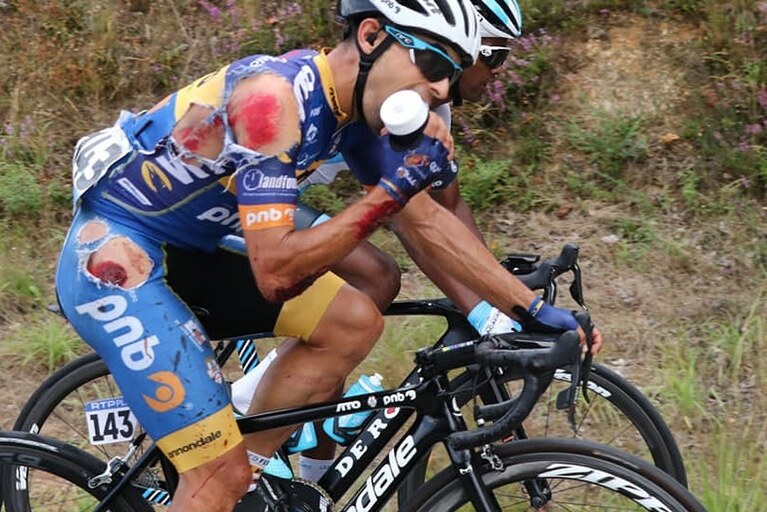 We sometimes get asked by clients what care they need to give their custom cycling or triathlon kit to keep it in the best condition for the longest possible time and generally speaking the answer is not much. We use sublimation printing which means that a design is printed on to paper and then the dye is transferred on to the garment to colour the actual fabric. That is to say that the colours are not sitting on top of the fabric, but are actually absorbed and by using very high quality dyes it means that they will essentially never fade (other than bleaching in the sun after very long periods of use in sunny conditions). We also choose fabrics specifically for their longevity so that they do not get tatty or fall apart. Having said that there are a few things you can do to look after your kit better:
Never wash kit mixed with velcro – this is because velcro will pull threads from microfibre fabric in particular, which may expose uncoloured (white) threads that will show up against the printed fabric.
Don't use fabric softener – as this can interfere with the the wicking and breathability of technical fabrics.
If you use triathlon clothing in a swimming pool, do not leave it too long before you wash it. Our triathlon fabrics are all chlorine resistant, but chlorine is a very aggressive chemical and will eventually damage the fabric.
And that's it. You really DON'T need to follow the long list of things that many custom cycling clothing suppliers suggest, for example: washing cold, drip drying (rather than tumble drying), washing seperate from other clothing, turning inside out before washing, using mild detergents. Just treat it like you would normal sports kit and you will get years of use without any noticeable deterioration. Just don't fall off your bike….